As a gift experience company, we talk a lot about how to amplify an incentive trip, but what exactly does this mean and how does it impact you as a planner? It all starts with a couple of questions.

Questions like these set the stage for people to talk about their success. The gift is proof that they own the bragging rights, bragging rights to the trip they earned and are inspired to win again the next year. The goal is to make people feel valued as individuals rather than just a number in a large company. They'll appreciate your efforts to make their gifts personal.
When thinking about planning a gift experience be sure to consider whom you're gifting, their values, and the message you want to communicate. Use these elements as your guide and keep your guests in mind when choosing gift items for events.
Of course, our goal is to make it simple for planners and meaningful for guests. After all, our core purpose is to appreciate and inspire amazing people. From our fast turnaround time on-site to our beautiful pop-up boutique set up, we're also known for having the best on-site staff that handles all the details of your event. In short, we strive to make sure each guest walks away with a gift they love and feels appreciated and inspired long after the event concludes. Now that's a successful gift program, but how can you as a planner ensure that your gift programs are the best they can be? Here's how!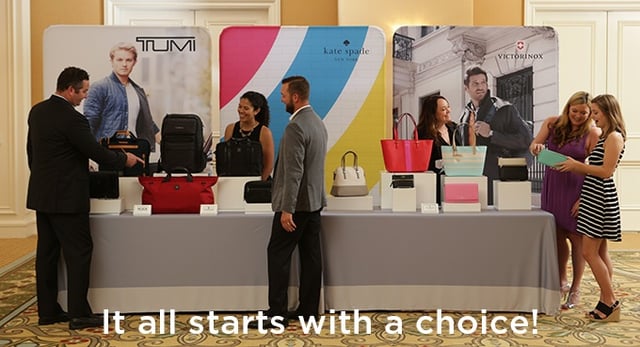 To help we launched the Cultivate Gift Score™, which serves as a way to score your gift program, further helping to maximize their incentive trip. The Gift Score™ is based on three factors, choice, aspirational appeal, and frequency. Let's take a look.
IT ALL STARTS WITH A CHOICE
The foundation of any gift program is the level of choice. Everyone is unique, so a one-size-fits-all approach never truly works. Providing the right amount of choice ensures that every guest finds a gift that they love. However, too many choices can be overwhelming. That's why we work hard to strike the perfect balance between too few and too many choices.
UNDERSTANDING THE ASPIRATIONAL APPEAL
Aspirational appeal adds another dimension to gifts by breaking down barriers between guests and premium products from top-of-the-line brands. So, why do they make such great gifts? First, people don't need these items, but aspire to own them. Second, they are great products from great brands that people will rarely splurge on for themselves. Lastly, they are well-known brands that are unlikely to go on sale, so receiving them as a gift is sure to be inspiring.
FREQUENCY OF USE MATTERS
How often is your client going to use the item you've gifted to them? When people frequently use a gift, they continue to feel appreciated long after the occasion. With continued use, the gift-giving experience and the people involved in it become more memorable.


The foundation of a great gift program is simple. Offer guests the right amount of choice, so they can select a gift they love.
Think about a great gift you've received in the past. How many times did you talk about it and how great it made you feel receiving it? That should be the goal with every gift program you create. Allowing your guests the opportunity to feel appreciated months after your event, so they'll still be bragging about the incredible gift they received.
If you're interested in learning more about how to amplify your incentive trip with your gift program, we're here to help.