What started as the birthplace for the iconic Swiss Army Knife in 1884, is now home to a global company with five product categories: Swiss Army Knives, household and professional knives, watches, travel gear, and fragrances. Let's focus on Victorinox's travel gear, one of our top gift experiences.
Victorinox is a family owned company that began over 130 years ago. Originally named Victoria after the founder, Carl Elsener's mother, it later became Victorinox to reflect the use of stainless steel in the product. Now fourth generation owned, Victorinox has since moved from just Swiss Army Knives into the other category products, such as their travel gear. The idea was to continue creating multi-functioning, lifestyle items that aligned with Victorinox's company values, as well as held the same high-quality standard that their knives were already known for.
What we love most about Victorinox is the product quality. These bags are designed for customers' daily lives. For work, play, travel, and more, you can find a Victorinox bag to fit your needs and style. They're seen as a classic brand that's consistent in what they accomplish and produce. So, when a customer purchases a bag they know exactly what they're getting.
Cool Fact: Victorinox is also dedicated to using environmentally friendly processes and materials. In 1980, they developed a system to collect steel dust after grinding and polishing, recycling it and using the energy to heat the factory and 120 apartments that are connected with the company.
While Victorinox may seem to lean more towards masculine styles, their bags and luggage are made for both men and women. Though they do have a specific women's collection called Victoria, made for women who are looking for a more feminine look. Take a look at some of our favorite Victorinox bags!
WT 22" Black Dual Caster – This spacious, expandable luggage is perfect for short trips. It fits easily in overhead compartments and has a lighter interior for easy access to your items.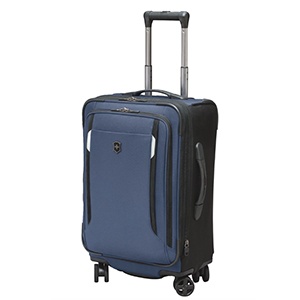 VX Sport Wheeled Cadet- With a 30-liter capacity and storage for all your technology, this backpack is where the office meets the outdoors.
Rath Slim Backpack- This backpack is perfect for everyday use! With space for your laptop this bag can go with you to the office or on your next adventure.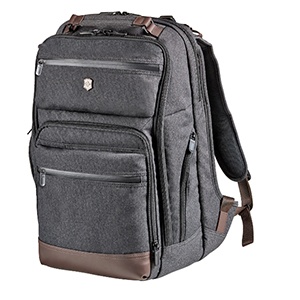 Lexicon Weekender- This carry all bag has a roomy main compartment and a separate water-resistant pocket for wet or dirty items, making it the perfect weekend getaway bag!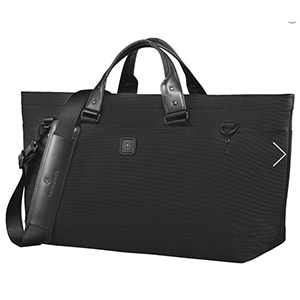 From day trips to everyday business needs, Victorinox blends quality, innovation, and classic design to become the ultimate travel companion.