At Cultivate, gift giving is what we do best, though we also work to give back to our communities as much as possible. It's important to us to lend a hand in helping others as it coincides with our core mission which is to appreciate and inspire amazing people. We're lucky enough to partner with brands who share the passion of giving back. Each one of them is unique in the stories they tell and the missions they work towards, though undoubtedly every one is important.
Cultivate Givebacks

Throughout the year our team members volunteer at a local youth shelter, Attention Homes. Attention Homes is a non-profit organization that works to provide essential services to at risk youth. We assist in meal preparation, food and clothing drives, in addition to organizing donation events and annual contribution funds. We're proud to work with Attention Homes in providing resources and inspiration in order for homeless youth to reach their full potential.


Artifact our destination-inspired gifts, also serve as a company giveback. Each gift box directly supports independent artisans, their families, and their communities while promoting organic exposure to their crafts.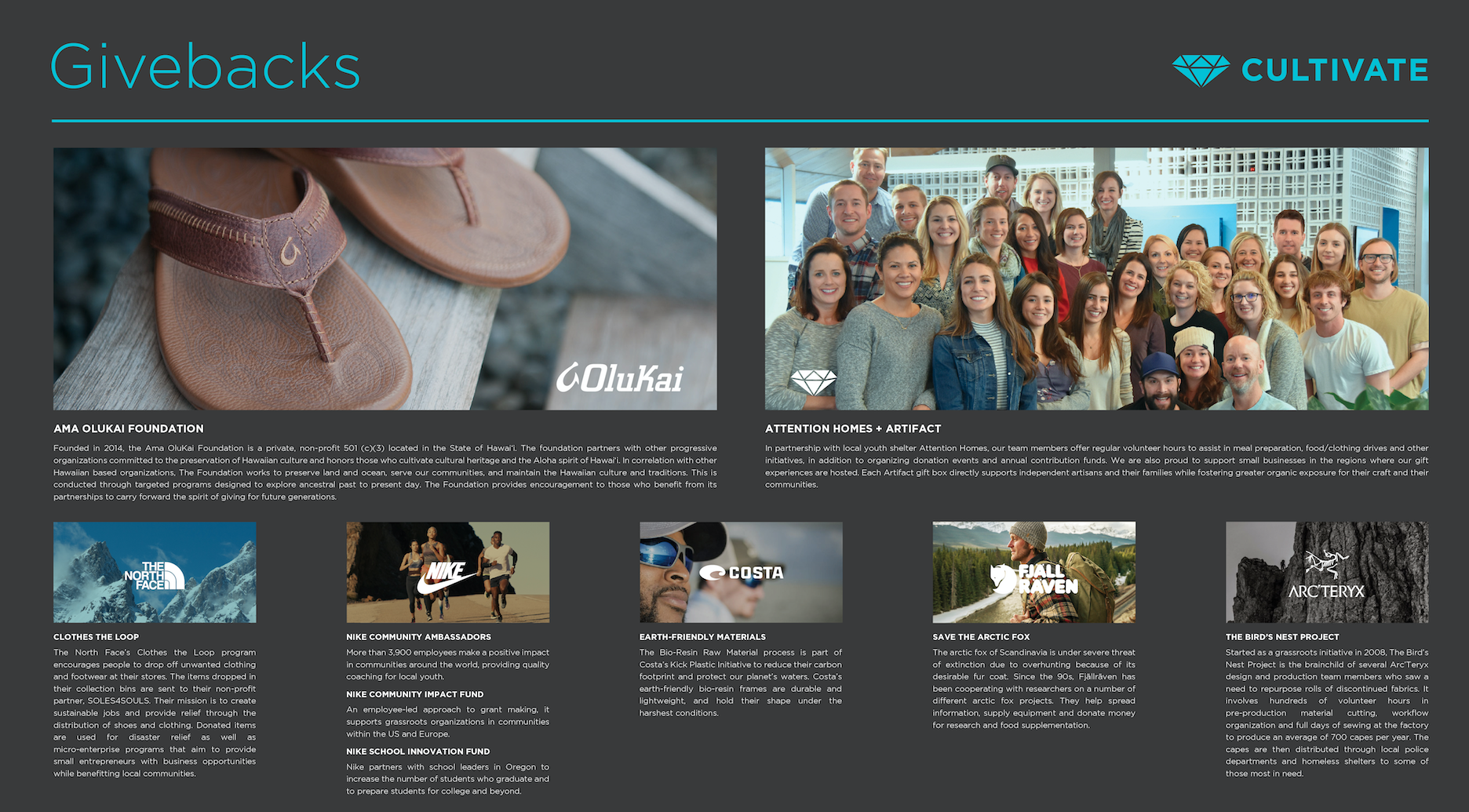 OluKai- Ama OluKai Foundation
Founded in 2014, The Ama OluKai Foundation a private, non-profit 501 (c)(3) that partners with other progressive organizations committed to the preservation of Hawaiian culture. The Foundation works to preserve land and ocean, serve communities, and maintain the Hawaiian culture and traditions.

The North Face- Clothes The Loop
The North Face encourages customers to drop off unwanted clothing and footwear to their stores to be donated to their non-profit partner, SOLES4SOULS. Their mission is to provide sustainable jobs and provide relief through the distribution of clothing and shoes.
Nike Community Ambassadors
More than 3,900 Nike employees make a positive impact in communities around the world by providing quality coaching for kids in sport and play.

Costa- Earth Friendly Materials
The Bio-Resin Raw Material process is part of Costa's Kick Plastic initiative to reduce their carbon footprint and protect our planet's waters. Costa's earth-friendly bio-resin frames are durable and lightweight, and they hold their shape under the harshest conditions.
Fjällräven- Save The Arctic Fox
The arctic fox is under severe threat of extinction due to overhunting. Fjällräven has been cooperating with researchers in a number of different arctic fox projects. They help spread information, supply equipment and donate money to research and food supplementation.
Arc'teryx- The Bird's Nest Project
The Bird's Nest Project is an idea that stemmed from Arc'Teryx team members who saw a need to repurpose rolls of discontinued fabrics. It involves volunteered hours of pre-production cutting of materials, workflow organization and sewing to produce an average of 700 capes per year. The capes are distributed through local police departments and homeless shelters for those most in need.