Become the most memorable sales rep as competition rises, and differentiation sinks
Competition in the sales environment has undoubtedly increased in the past few years. More companies are selling in the same space, especially to a limited pool of potential customers looking for your services. Thus, the ratio of salespeople to prospects is vastly unbalanced. Are you wondering how best to stand out from your competition?
As a result of the increase in sales offers, customers are becoming less interested and more skeptical of traditional sales pitches. For example, millions pay to avoid advertisements on online entertainment providers like Hulu and Spotify. Why? Because persuading individuals to want to listen to a sales pitch takes some effort.
Let's face it: people become distrustful and bored when they repeatedly hear the same sales pitch. The good news is that when prospects experience a human connection and feel genuinely valued, they tend to respond differently.
You can use the human connection to your advantage! Now, it's more important than ever to start selling differently to capture clients' attention and stand out from the competition.
How you can stand out from competitors
We understand that selling in a crowded market makes it difficult to reach people. That means differentiation is critical when it comes to expanding your customer base. The real question you need to ask yourself is, how do we make an impact and connect with people without appearing insincere?
Instead of trying to convince clients that your company is unique, show them! The main distinction between you and the competition is how people perceive you. You can make a definite difference when you provide value to prospects, as we suggest here:
Listen to prospects and understand their actual needs

Focus on helping rather than selling

Share handwritten thank-you notes

Send meaningful gifts of appreciation
All the tactics mentioned above can help you establish a good relationship with prospects. Nonetheless, providing intentional gifts can be a unique way of achieving this goal. The more you value people, the more likely they'll repay you with extra effort, better output, and greater loyalty. Everyone benefits when you consider gifting as an investment instead of an expense.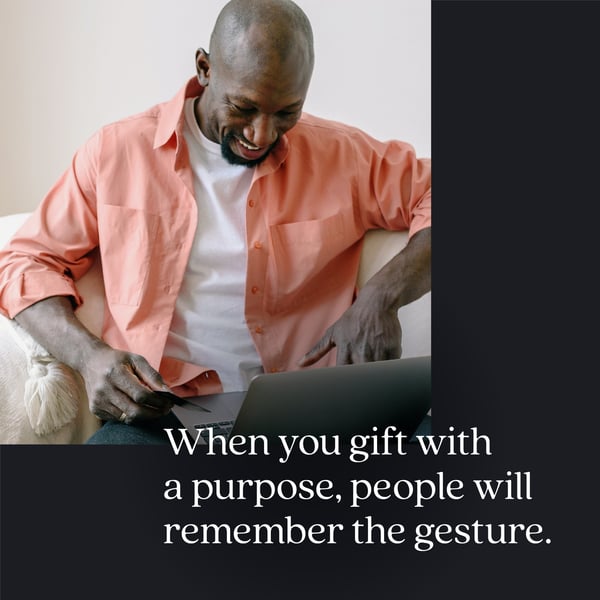 Gifting is a powerful tool for standing out in a busy sales environment. Not only does gifting add value to prospects, but their satisfaction can also be measured as a Return on Appreciation™. This measurement of satisfaction means that when you gift with a purpose, people will remember this gesture and return it to you with greater loyalty.
Add value with our Online Gifting Platform
Most companies are already looking for ways to be different regarding stronger sales pitches. However, not many are focusing on nurturing relationships with meaningful gifts. Why is this important? 84% of decision-makers say receiving a gift helps them feel a human connection to a salesperson. It's a fact that people want to have a personal connection with companies, and they remember gifts more than any other form of appreciation.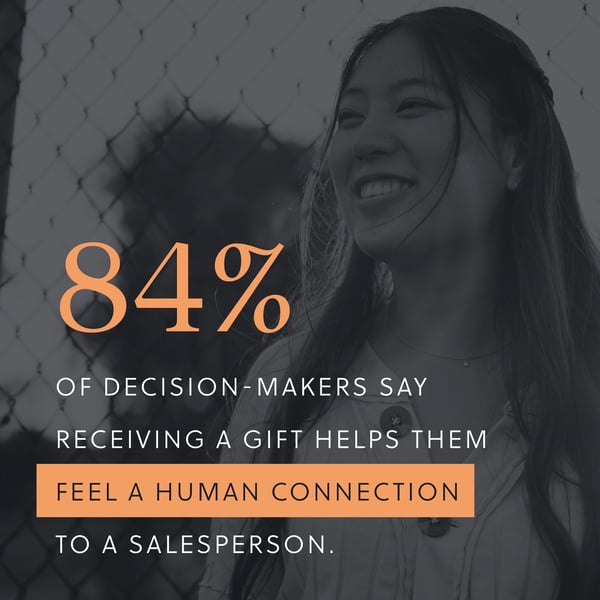 Benefits of gifting:
Make prospects feel valued

Generate greater loyalty

Practice Return on Appreciation™
We understand you may think, "the logistics for strategic gifting are too complicated" or "gifting is too expensive." We have wonderful news! What if we told you that you could make a significant impact without spending a lot of time and maintaining your budget? Sounds great, right?
We believe that standing out as a company in today's competitive world doesn't have to be complicated, and that's why we want to share our Online Gifting Platform with you. This service can help you reach prospects on a personal level directly to their inboxes!
Perks of our Online Gifting Platform:
Send a single gift or as many as you want at one time

Appreciate anyone and send gifts practically anywhere

Invest in items prospects will love

Send premium gifts on a set budget

And much more!
Overall, a salesperson is likelier to win new clients if they can make a meaningful impression and be more memorable than their competition. Our Online Gifting Platform helps provide luxury gifting through a customized online portal where prospects can select the items they receive. This way, you can make an impactful gesture with a simple process.
Try a demo to check out how our Online Gifting Platform works.