We're the Trusted Source from on-site events that you know and love, and we're bringing our knowledge and expertise to your virtual gift programs. We are actively working with clients who are looking to preserve canceled incentive trips. Rather than providing cash or gift cards, they are choosing gift experiences because Cultivate's virtual gift experiences offer recipients the right amount of choice, making it easy and enjoyable for everyone to decide on a gift they want and will enjoy.
Finding the perfect balance
Ten years of successful on-site gifting has proven that our Curated Collections won't overload your recipients with too many, or too few, choices. Having too few choices will cause recipients to pick something they may not want and later regret. Offering them too many choices can overwhelm, causing frustration and indecision. So, while your recipients are disappointed that incentive traveling is on pause for a moment, don't cause any further disappointment by delivering the wrong gift.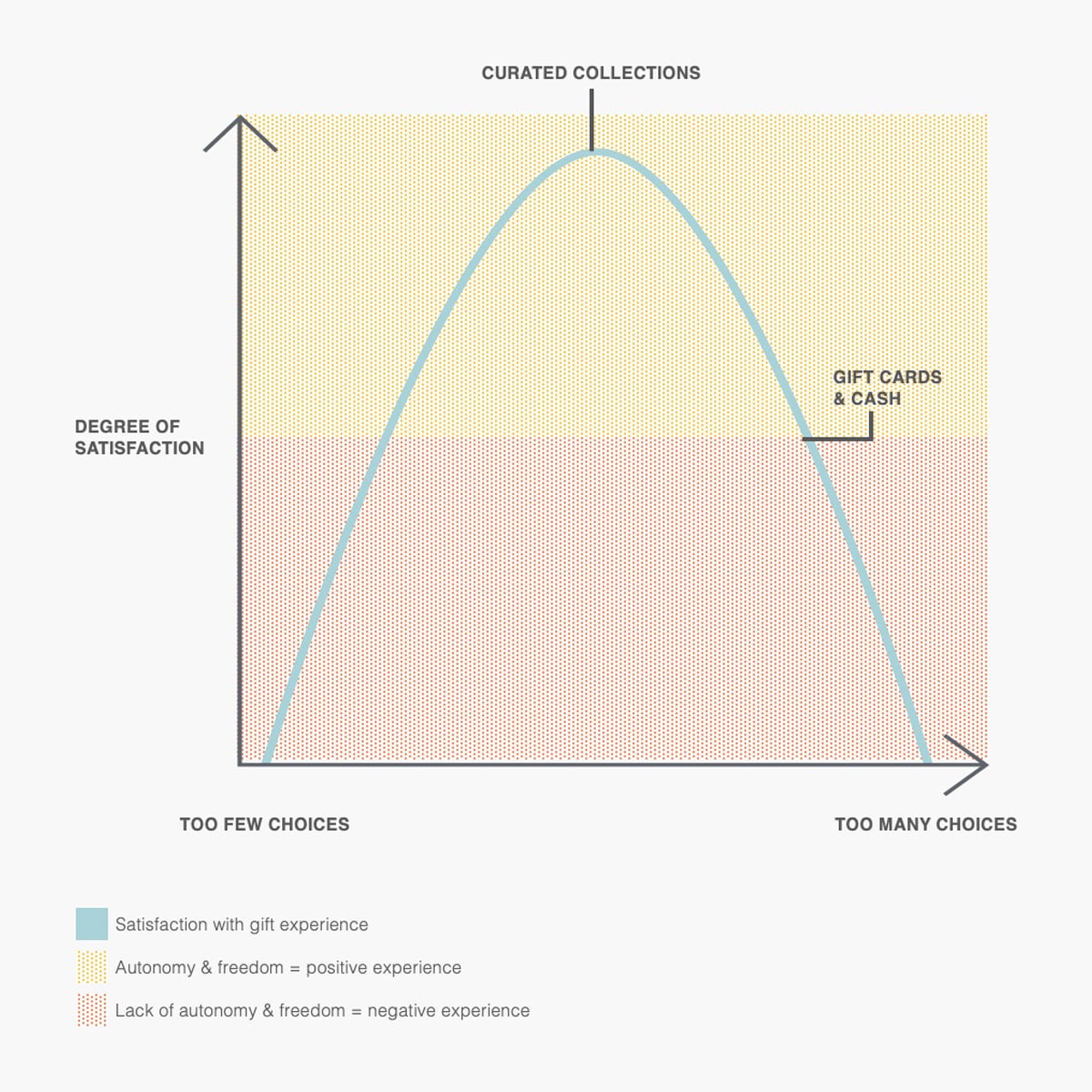 Our experiences with the science behind decision making isn't an anomaly. A large body of psychological research suggests the decision-making process can be positively, and negatively, affected by the number of choices an individual faces. How an individuals' degree of satisfaction changes based on the number of options available can be described with an inverted "U" model. In this model, having too few choices results in a very low degree of satisfaction because it doesn't allow for autonomy and freedom. Initially, more choice leads to greater satisfaction. However, as the right amount of choice peaks, the degree of satisfaction also peaks. As too many choices are presented to recipients, satisfaction begins to decrease due to feelings of pressure, confusion, and potential dissatisfaction with the decision. Rewarding recipients with cash and gift cards can often lead to an abundance of choices or choice overload. This results in people having a difficult time making a decision when faced with too many options.
(Sources: Journal of Psychological Science, 2007. The Paradox Of Choice, 2004.)
Rewarding them with something they want is the answer you've been looking for
As the gift experts, we've learned there's no time like the present to make a meaningful impact. Time and time again, we've found that when you give someone a gift they want, they're more likely to experience lasting feelings of appreciation. Tangible gifts remind recipients of your appreciation long after receiving it, unlike cash and gift cards that often work their way into a recipient's household spend and are soon forgotten.
So, how do we guarantee they'll find the perfect gift from one of our collections? Aspirational brands. Selecting an aspirational gift becomes a delight – as recipients "treat themselves" to something they might not otherwise have purchased. Aspirational gifts reward them with items that match their ambitions and lifestyles. Cash and gift cards are often viewed as compensation and later become expected, lessening their long term impact.
(Sources: Journal of Consumer Research, 2019. Journal of Behavioral Decision Making. 2019. Academy of Business Research Journal, 2019.)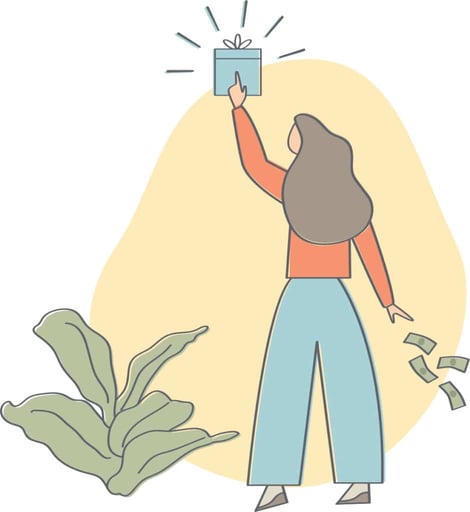 In short, planners are resolving their event dilemmas with a gift experience because they've come to understand the importance of choice. Too many options can feel overwhelming while not enough can end up making your gift program fall a little flat. However, offering the right amount of choice is the most effective way to ensure every recipient finds a gift they love and will enjoy using for months or years after your gift program ends.
Ready to start planning? Download our virtual gift experience information sheet to learn more, or chat with one of our gift experience experts directly through our website. Not robots but real-life Cultivate team members, our online experts can help answer your questions and find innovative solutions for your upcoming events.