If you plan on spending time outdoors this winter, knowing how to layer your clothes will be a life (and limb) saver. When it comes to keeping your body warm and dry, the right sequence of layers will provide a protective barrier from winter weather, help to direct moisture away from the skin, and evenly dissipates heat. Proper layering helps avoid a bulky appearance because we all know the struggle of wearing one-too-many layers is real; really uncomfortable and really unnecessary. Layering merges function with fashion and knowing how to layer apparel can prove to be both a stylish and smart choice for all of life's cold outdoor adventures.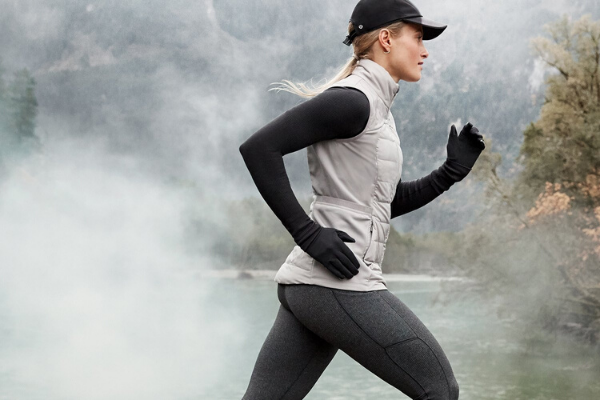 Perfecting the art of layering
Not as complicated as you may think, layers work together to regulate body temperature and manage excess moisture inside clothing. Proper layering also allows clothes to move freely over each other, so you don't experience restriction or chafing. The right balance of performance apparel adds up to more time outdoors, giving you more time to comfortably pursue winter activities.
Baselayer: the first layer, worn next-to-skin, determines your other layers. Heavier weights are recommended for cold weather conditions and lower output.
Mid-layer and fleece: the second layer is permeable and provides some warmth and protection through the use of synthetic materials and fleece variations.
Insulation: the third layer provides the highest warmth-to-weight value and packs small. Down insulation is best suited to cool and dry conditions. Synthetic insulation remains warm when damp and is more abrasion resistant but less compact than down.
Shell jackets: the fourth layer is the most waterproof, windproof, and breathable layer, most often worn on the outside of all other layers.
Insulated shell jackets: the fifth layer is lighter than an equivalent two-piece system, insulated shell jackets combine premium lightweight warmth of down insulation with a weatherproof outer shell.
Belay jackets: the sixth layer is designed to be worn over all other layers, belay jackets are an extra layer that is packable, lightweight, and meant for use during periods of rest or low activity.
From keeping the wind out of your face to staying dry in sudden snowy conditions, layering is applying what you know. Knowledge is power, and we want to help you avoid a bulky appearance. Dressing like the little brother who can't put his arms down in the holiday classic, 'A Christmas Story' isn't flattering for anyone. Our layering basics offer a seamless, outdoor style.
Our variety of apparel brands can help everyone become a master of layering. From timeless favorites like Lululemon and Smartwool to more recent brands such as Vuori and Arc'teryx, each creates distinctive performance apparel that works hard to keep you warm. If you're planning your next incentive trip or event, our on-site apparel gift experiences have you covered.