People need encouragement. In fact, we all thrive on positive reinforcement whether or not we're willing to admit it. Next time you share uplifting feedback, notice how the other person comes alive when they feel supported, seen, and appreciated. When we have the support of others, we strive to do even better. We're more confident, energetic, and outwardly happy.
Similar to cheerleaders on a sideline, there are many ways you can support your squad. Whether you're leading by example or passing the spirit stick—here are a few ways you can become a source of encouragement for your people.
Lead By Example
Captains of cheer squads are known for perpetuating team spirit. They support others, encourage participation, and are the first ones to clap for other's achievements. Like cheer captains, great leaders know how to motivate and inspire in an uplifting way. They commit to the success of each team member by modeling qualities such as fairness, honesty, and commitment.
You don't have to be the captain of your team to be the first to celebrate wins, both big and small. This kind of encouragement will help promote positive company culture, increase morale, and lead to a higher level of employee engagement and retention. Commit to recognizing others' achievements and watch as those around you are inspired to act in the same way while building trust and respect.
Rev-Up Your Routine
In cheerleading, there are two types of routine run-throughs. First, there's "marking." This is where the squad walks through the routine to ensure all members know their placements and timing. Then, there's going "full out" and it's exactly as it sounds. This is when squads practice the routine just as they would in a competition, giving it their all to exceed expectations.
When it comes to encouraging others, many of us tend to "mark" our way through the motions. Instead of simply marking a milestone like a work anniversary or completing a major project with a pat on the back or 'job well done' comment, go full out. When your team nails it, let them know. Rewarding and recognizing your squad will motivate them to exceed expectations and give it their all.
Pass The Spirit Stick
One of the most novel elements of cheerleading is the spirit stick. The spirit stick embodies a cheerleader's ability to praise others and is awarded to those who show support, exemplify teamwork, and have a positive attitude. It's not a source of competition but a source of inspiration. More importantly, the spirit stick is something that you pass on when you want to celebrate another cheerleader's accomplishments.
When a co-worker receives a promotion, pass them the spirit stick. When the Sales team achieves a major goal, pass them the spirit stick. When a new person joins your company, pass them the spirit stick. In taking the competition element out of it, you're able to support others and cheer them on from the sidelines.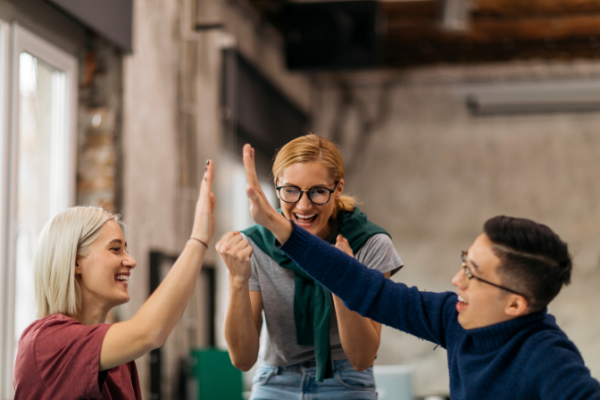 Encouraging others can have a lasting impact on your team and company as a whole, but it takes practice. Whether you've ever been a cheerleader or not, we've all got what it takes to energize and empower our people, build team spirit, and lead by example. Consistent cheering is contagious, and like a pep rally, the shared energy will inspire others to do the same.