According to industry analysts and insights, the demand for quality products this holiday season will be one for the record books. To help you plan and deliver a successful program, our team of experts has detailed this year's holiday gifting forecast; plus, how Virtual Gifting offers a variety of quality products everyone will love.
People's wishlists are focused on the future
In case you missed it: The 2021 holiday forecast from Salesforce points to a holiday season geared toward fulfilling people's wishlists. The forecast reveals a shift from people thinking of gifts as products they need to products they want to receive.
Rob Garf, Vice President of Retail at Salesforce, explains what this means for your holiday gifting program. Instead of people filling their wishlists with products they can use right away, they're asking for gifts they can use for future travel plans. Products such as luggage, recreational gear, vacation attire, and accessories top their lists. "A lot of the wishlists are focused on adding to the experiential and the physical products that will help extend that experience."
According to Garf, "People are expected to have more "social products" on their holiday wishlists, such as home decor and apparel to revamp wardrobes and prepare for future travel." Similarly, retail and industry experts predict handbags, luggage, and luxury accessories such as watches and jewelry will be among the top quality products expected to do well this holiday season.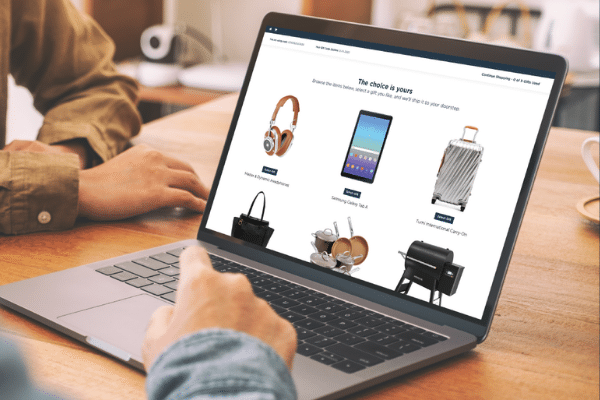 Virtual Gifting offers something for everyone
Finding the right gift for people is hard. Holiday gifting is even harder when you are looking to give personalized, quality gifts to people you may not connect with in person. With Virtual Gifting, you're able to connect with people over the holidays and appreciate them with gifting options they'll love.
Since Virtual Gifting isn't limited to a product's weight or size, you can offer people a broad range of gifting options. If you want to appreciate people with recreational gear, we have eBikes, stand-up paddleboards, and camping equipment. Maybe you want to appreciate people with new housewares and tech accessories; you can offer them smart home devices, LCD projectors, or kitchen gadgets like a Vitamix.
It doesn't matter who you're gifting—the recreationalist, tech-enthusiast, kitchen connoisseur, or the person who's obsessed with organizing everything. Our team has spent more than ten years working directly with suppliers and monitoring redemption trends, product reviews, and feedback to ensure our Curated Collections offer a variety of quality products everyone will love.
Whether you're planning to appreciate people this holiday season or planning ahead for 2022, we're here to help. Connect with our team of Gifting Experts to learn more about our variety of brands and quality products, try a demo, and see how our online gifting platform works.