This Thanksgiving is an opportunity to think outside the cooktop. It may inspire you to throw out traditional recipes and opt for an entirely new menu (maybe that's something you've secretly wanted to do for years anyway). Or you may be seeking just the opposite, longing to replicate some semblance of your usual Thanksgiving traditions because you find them comforting in these uncertain times.
Regardless of which recipes you whip up, helpful kitchen tools and gadgets are still a must for delivering a delicious Thanksgiving meal. Grab that new gift you chose during a recent virtual gift experience—and one of 2020s most sought after holiday items—the air fryer. Since this is a day dedicated to foodies, we're serving up two side dish recipes for you to try. Put on your apron and let's get this party started.
An aspirational air fryer
Did you know: air frying cuts up to 80% of the fat of traditional frying, making it a much healthier alternative? We're not lying! Most deep-fried recipes require at least 2 to 3 cups of oil. With the air fryer, you only need one tablespoon. Because air-fried meals are so much lighter, you will feel less bogged down after eating them and you won't consume nearly as many calories—something we can all be thankful for when it comes to chowing down on Thanksgiving day.
In addition to the health benefits, an air fryer also speeds up cooking time. It works by using convection fans to quickly circulate hot air around the food, cooking quickly while also crisping it. Just like you can cook or reheat food more quickly in an oven using the convection setting, an air fryer works on the same principles of even heat. Last but not least—an air fryer is a gift that, quite literally, keeps giving.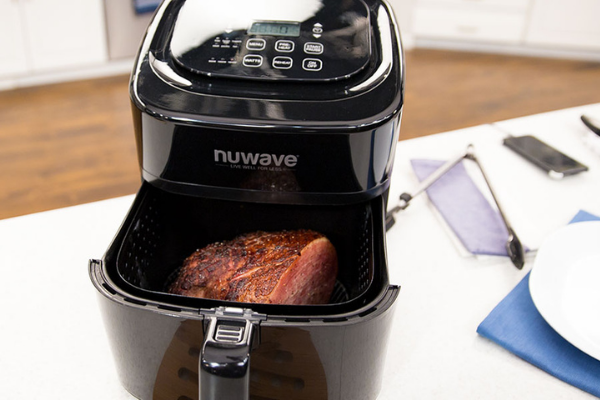 AIR FRYER ROSEMARY POTATOES
Ingredients you'll need
2 tablespoons (10 g) olive oil
2 teaspoons (10 g) chopped fresh rosemary leaves
1 teaspoon (5g) salt
½ teaspoon (2.5g) pepper
½ teaspoon (2.5g) garlic powder
2 lb small red potatoes
Easy-to-follow instructions
1. In a large bowl, mix oil, rosemary, salt, pepper, and garlic powder.
2. Cut potatoes into similarly sized 1-inch pieces. Add potatoes into the bowl, then toss to coat.
3. Using a slotted spoon, place your potato mixture into the air fryer basket. Set to 375°F, and cook 25 to 30 minutes. Shake the basket every 10 minutes, until potatoes are tender and browned.
4. Garnish with small sprigs of fresh rosemary.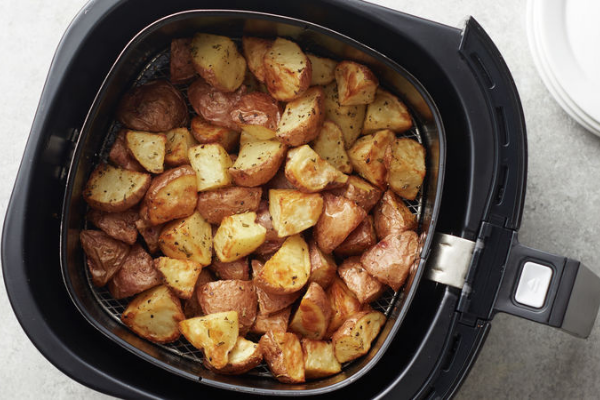 AIR FRIED ACORN SQUASH
Ingredients you'll need
1 acorn squash
3 tablespoons (45 g) butter, melted
2 teaspoons (10 g) brown sugar
½ teaspoon (2.5 g) kosher salt, or to taste
Black pepper, to taste
Easy-to-follow instructions
1. Trim the top & bottom off the acorn squash, and then cut the squash in half from top to bottom. Scrap out the seeds. Lay the squash cut side down on the cutting board, and cut the squash into half rings, about 1/2-inch thick.
2. In a bowl, combine the melted butter, brown sugar, salt, and pepper. Toss the acorn squash rings in the butter mixture until well coated. Place in the air fryer basket.
3. Air Fry at 375°F for about 15-20 minutes or until tender, flipping the squash after the first 10 minutes.
4. If desired, put on your serving platter, then drizzle with a little melted butter, chopped nuts, and pomegranate seeds. Taste for seasoning and add a little more salt & pepper if desired.
Toast to what you're thankful for, then dig in. Don't forget: the best part of Thanksgiving is leftovers! Store what's remaining to enjoy later.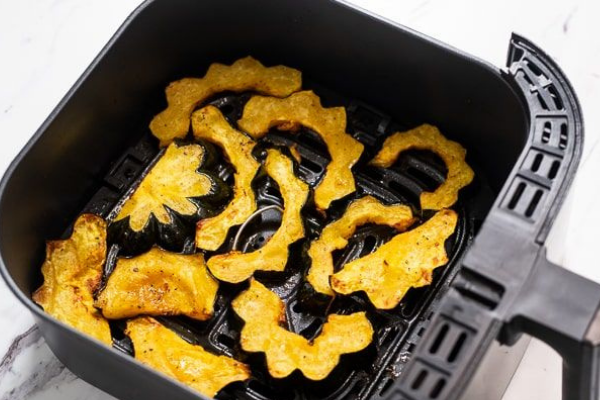 At Cultivate, we believe in the power of appreciating and inspiring. So, whatever you decide to whip up this week, we hope you take some time to appreciate all of the things, people, and places you're thankful for and inspire someone else to do the same.
Happy Thanksgiving!