We're confident at least 20 more people than usual baked some type of bread this past weekend—and those are just the people in our office. If you, too, aimlessly scroll on Instagram, there's a pretty big chance that you've also run into Story after Instagram Story about baking bread. Sourdough, banana bread, braided challah, focaccia, baguettes—all double-tapped with hunger and love.
In all seriousness, there's something healing, and almost primitive, about baking. Humanity has been baking bread for tens of thousands of years. Bread tastes like home, like comfort. And what could be better than providing yourself with comfort and carbs? Trying out that new Cuisinart Compact Automatic Bread Maker you recently selected during a virtual gift program. Not only does it make baking easier, but it also has a convenient 13-hour delay-start timer, so the pleasant aroma of just-baked bread can be filling the air when you wake up or walk in the door.
Here is a Herb Focaccia recipe so you can put that new kitchen gadget to the test. You didn't buy that baking powder and baking soda for nothing!!! Let's bop.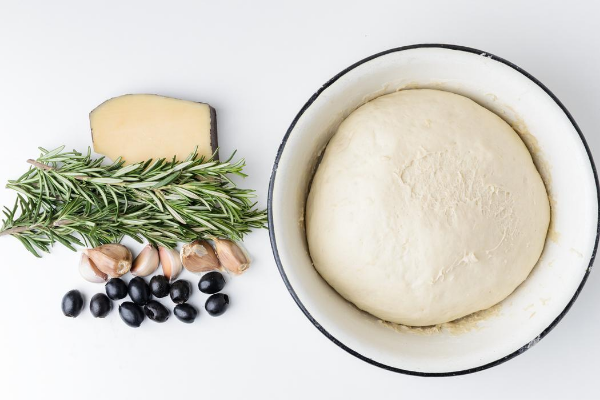 Herb Focaccia
You probably already have all of the ingredients. Except for yeast. (Is yeast alive? Creepy. You can find it at a grocery store, though, so that's good news.) And look, there's no kneading! Well, not for you anyway. Here's what you need:
For the dough:
1 cup plus 2 tablespoons water, room temperature
2 tablespoons plus 1 teaspoon extra virgin olive oil
2¼ teaspoons dry Italian herb blend (To make your own, use equal parts dried basil, oregano, marjoram, and thyme with a pinch of garlic powder.)
1½ teaspoons kosher salt
3 cups plus 3 tablespoons bread flour
1½ teaspoons yeast, active dry, instant or bread machine
Olive oil for pan
Cornmeal for dusting pan
For the topping:
3 tablespoons extra virgin olive oil
¾ teaspoon kosher salt
⅓ cup grated Parmesan
¼ cup chopped fresh herbs (any combination), loosely packed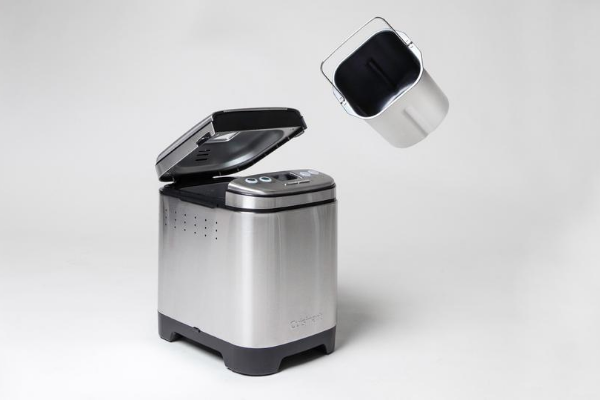 Instructions:
– Put all dough ingredients, in the order listed, into bread pan fitted with the kneading paddle. Secure bread pan into your Cuisinart Bread Maker.
– Press the PROG button to select the Dough program. Press START/STOP to begin the dough-making process.
When the cycle is complete, remove dough and transfer to a lightly floured surface. Punch down to deflate and let rest 10 minutes before continuing.
– Brush a shallow rimmed baking pan with olive oil and sprinkle with cornmeal. After the dough has rested, roll out to the appropriate size and place on prepared pan. Cover loosely with plastic wrap and let rise in a warm place until about doubled, about 40 to 50 minutes.
– Preheat oven to 450°F with the rack in the middle position. While the oven is preheating, assemble the focaccia with the topping ingredients. With oiled fingertips, press indentations into the dough about 1 inch apart and ½ inch deep.
– Drizzle with olive oil. Sprinkle evenly with salt, Parmesan, and fresh herbs. Put in preheated oven and bake until deep golden and puffed with a crispy crust, about 20 to 25 minutes. Eat and take comfort in your culinary skills.
Does it taste like the next best thing since sliced bread? We sure hope so. If you're feeling ambitious, we'd love to see your loaves! Tag us in your photos and videos for a chance to be featured on our Instagram Story. Because people baking bread IRL is exciting. And while using your new gift? Better than butter.