You finally received the gift that's been on your wishlist for a while: a Dutch oven. It turned up on your doorstep after you indulged in a virtual gift experience– and now, it's time to put it to use. If you're like us, initially, you may have no idea what to make in this thing that wouldn't require one whole stick of butter. (Don't get us wrong—we are very much into that as a staple ingredient, we also just want to explore all of our options.)
We know it's getting warmer outside and you likely aren't craving soup as often, but as lovers of soup year-round, can we all just pretend it's a little rainy outside and we're chilling out on the couch with this bowl of goodness watching Netflix?
Ok, great, we thought you'd be on board. Here's the how-to:
Ingredients:
2 Tbsp avocado or coconut oil
1/2 white or yellow onion (diced)
3 cloves garlic (minced)
1/2 red or orange pepper (diced)
1 1/2 tsp cumin
1 tsp chili powder
1 1/2 cups Red Chipotle Salsa (or any blended or chunky spicy salsa)
4 cups vegetable stock (DIY or store-bought)
2 Tbsp coconut sugar or maple syrup (to taste) (optional)
2 15-ounce black beans (cooked in salt // slightly drained)
1 15.25-ounce whole kernel corn (drained)
Optional ingredients for serving:
Lime juice
Fresh cilantro (chopped)
Red onion (diced)
Tortilla chips
Ripe avocado (cubed)
Hot sauce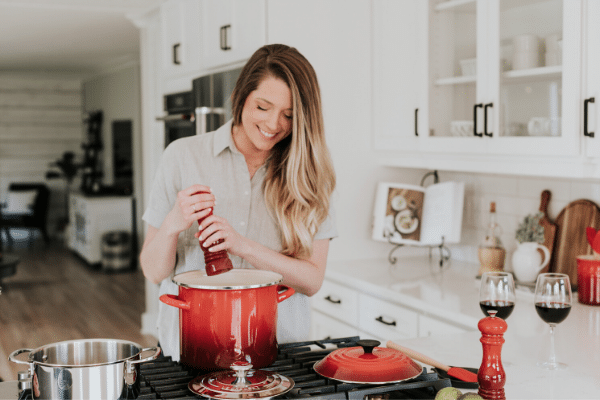 Instructions:
Heat your new dutch oven over medium heat. Once hot, add oil, garlic, onion, pepper, a pinch each salt and pepper, and stir. Cook for 4-5 minutes, stirring frequently until onions are translucent and the peppers have a bit of color.
Add cumin and chili powder and stir to coat. Then add salsa, vegetable stock, and coconut sugar. Stir to combine, then increase heat to medium heat and bring to a low boil.
Once it's boiling, add black beans and corn and stir. Reduce heat to low and simmer, covered, for 30 minutes or more, stirring occasionally. The longer it simmers, the more the flavor will develop. It's even better the next day.
Serve as is or with recommended serving options above. Leftovers will keep covered in the refrigerator for 5-6 days or in the freezer for 1 month.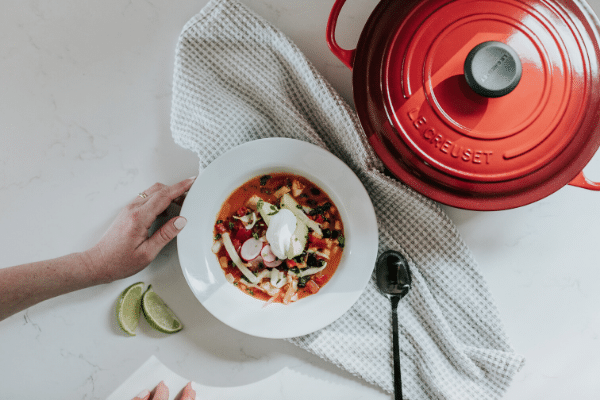 Voila! You just conquered a delish recipe, put your gift to use in a new and exciting way, and honed in on your culinary skills in the meantime. Does it get any better than this? Yes, yes, it does. Especially after your first, fifth, or thirtieth bite. Yum.
See more aspirational gift ideas in our Emerald Collection.