The kitchen can be so confronting, right? The difference between a good and bad day. What's up and what's down. What's cooking and… spoiling. And if you've never used certain kitchen tools or gadgets before, it can feel all the more daunting and defeating. Let's change that. To help you and your recipients' hon in on culinary skills and feel more confident in the kitchen, we're here with recipes to try and review and housewares that make it all the more flavorful and down-right fun.
First up is a summer-inspired Spaghetti Carbonara that only takes 20 minutes. Kick things up a notch with fresh peas and asparagus, both of which are currently in season. And, if you all are up for it, try making the dish with homemade pasta. 🍝
Ingredients:
3 slices bacon, cut into 1/4-inch pieces
½ pound English peas, shelled (about 1 cup), or 1/2 cup frozen peas
1 pound spaghetti
4 ounces asparagus, sliced diagonally 1/8-inch thick (1 cup)
10 fresh basil leaves, sliced thin
5 eggs, whisked, at room temperature
2 tablespoons whole milk
½ cup freshly grated Parmesan cheese, plus extra for garnish (2 ounces)
Kosher salt and freshly ground black pepper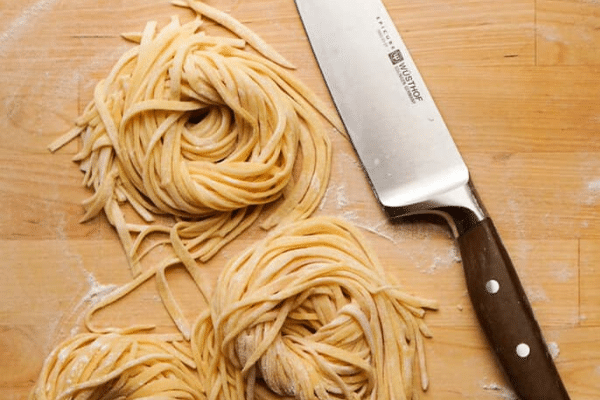 Before you begin:
If you or your guests can chop vegetables, boil water and whisk eggs, you guys can make this dish – but it's also indubitably luxurious. Everyone will think it's taken hours to make when, really, it only took about 20 minutes. Timing is everything in this recipe, so be sure to bring the eggs to room temperature before starting, and have all of the ingredients ready before tossing the pasta in the water. Also, there's a lot of slicing and dicing involved in the prep – so grab that new gift, the Wusthof knife set so lovingly selected during a recent virtual gift experience, to make the job that much easier. The precision blade makes you all look and feel like pros.
Here's the how-to:
Heat a sauté pan over medium heat and add the bacon, cooking for about 5 minutes, until crispy. Transfer the cooked bacon with a slotted spoon to a paper towel and set aside. Return the pan with the rendered fat to the stovetop for future use.
Bring a pot of salted water to a boil. Drop the peas into the water and cook them for 5 minutes. Transfer them to a strainer with a slotted spoon or a spider basket. Add the pasta to the boiling water and cook for 10 minutes, or until al dente.
While the pasta cooks, heat the bacon fat in the sauté pan over medium heat. Add the peas and asparagus, and sauté for about 5 minutes. Remove from the heat, stir in the basil, and set aside.
Whisk together the eggs and milk. Have the egg mixture, vegetables, and bacon ready to toss with very hot pasta.
Quickly drain the pasta and transfer immediately to a large serving bowl. Pour the eggs and cheese on top of the pasta, and toss vigorously to coat the strands and gently cook the eggs, forming a creamy sauce. Add the vegetables and bacon, and continue tossing to incorporate them. Season with salt and pepper to taste.
Portion the spaghetti on plates and ladle any sauce left in the bowl over each serving. Grate additional cheese on top if you like.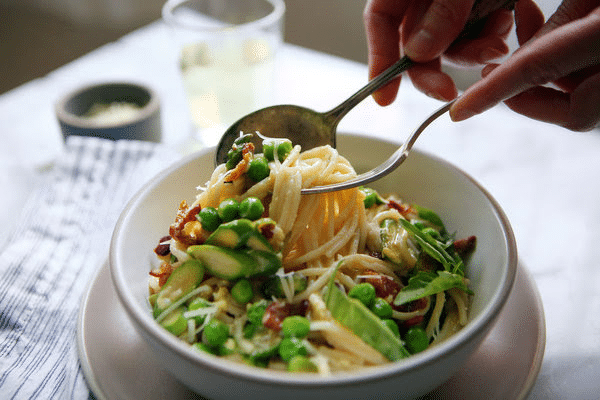 Pair it with a full-bodied red wine, poured through a Cristal D'Arques Decanter from our Copper Collection to add a dynamic depth of flavor and tasting aromas. Saluti!