The coronavirus has shifted many things, including the ways we meet, communicate, and interact with one another in a professional environment. But don't fret — your Trusted Source for all things virtual is here to help. We compiled a list of best practices for virtual meetings and events, narrowed them down by practicality, and now, we're bringing them to you in a three-part series. From online etiquette and icebreakers to conquering a great screen presence, we're dishing it all. Last on our list: mastering screen-time. Let's face it.
Mastering a great screen presence can sometimes be easier said than done—until now. Practice makes perfect, but we might not feel like rehearsing during downtime. However, there are some necessary adjustments you can make to help hone your appearance. Here are 10 best practices to help you master screen-time:
1. Prop up your computer. The camera should be positioned an inch or so above your head. Lift slightly to look, don't double-chin down.
2. Position your face in the middle. Your face should command the screen, with the top of your head brushing the top.
3. Look at the camera. It's hard not to look at yourself, but it's the camera you should be talking to. It's natural to look away at times, but remember that's your focal point.
4. Don't slouch. Sit up straight—this gives you a commanding presence.
5. Wear blue light glasses. If your eyes feel itchy or tired by the end of the day, or if you find yourself suffering through end-of-day headaches, the mend might be just on the edge of your nose. Blue Light Blockers, like Eyebobs, help filter the harsh, UV light that's emitted from our screens and smart devices. Not only do they come in stylish frames, but they can also help you unwind from the workday and sleep better at night, too.
6. Dress properly. Strike a balance between athleisure wear and traditional business clothes. You want to appear polished and productive so others know you're still taking your job seriously, even while working-from-home.
7. Pay attention. Others on the call can see you glancing down at your phone or checking emails. It's hard to get away with multitasking when a box is around your face.
8. Amp up your energy. If on-camera meetings give you anxiety, listen to your favorite song, or make a calming tea before it begins. It takes a lot of energy to express yourself virtually, so give yourself the space to prepare.
9. Record and review. Study yourself by recording your video calls and playing them back. Give yourself a score on tips 1 through 8, and note where there's room for improvement.
10. Go off-screen. For some meetings, video isn't necessary. Especially if you're already fighting off Zoom fatigue, don't be afraid to go dark at times and have an old-fashioned audio conversation.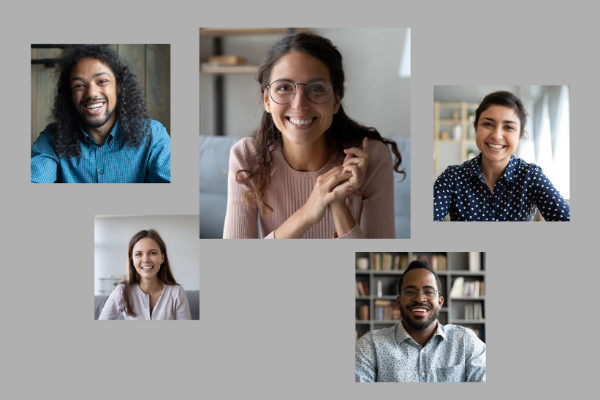 In today's workplace, you're just as likely to be working with someone in a different part of the country (or another region of the world) as you are with someone in a different part of the office. Your screen presence matters during remote meetings—make it work for you and stand out for all of the best reasons.