Longer days and warmer weather can only mean one thing: it's time to start thinking about your fall and winter gifting programs. Adding premium Patagonia options to your next On-site or Online Gifting program is easier (and more accessible!) than ever before.
Explore why people love our Patagonia gifting options and how our team can help you plan ahead to deliver unforgettable programs.
Patagonia is pro-planet.
Patagonia has been making high-quality outdoor gear for over 40 years and has become known and loved for its commitment to sustainability. The brand has made it a mission to minimize its environmental impact and is constantly finding new and innovative ways to reduce waste and conserve resources. For decades, Patagonia has been a leader in sustainable apparel and continues to set industry standards. It has taken steps to reduce its carbon footprint and minimize waste by reusing materials such as recycled polyester and fishnets.
Patagonia doesn't just talk the talk — they walk the walk. The company's founder, Yvon Chouinard, sold his stake and has redirected the profits to his environmental charity, 1% for the Planet. This means that every time someone selects a Patagonia gift of their choice, a portion of Patagonia's profits go directly towards bettering the environment and the places we all call home.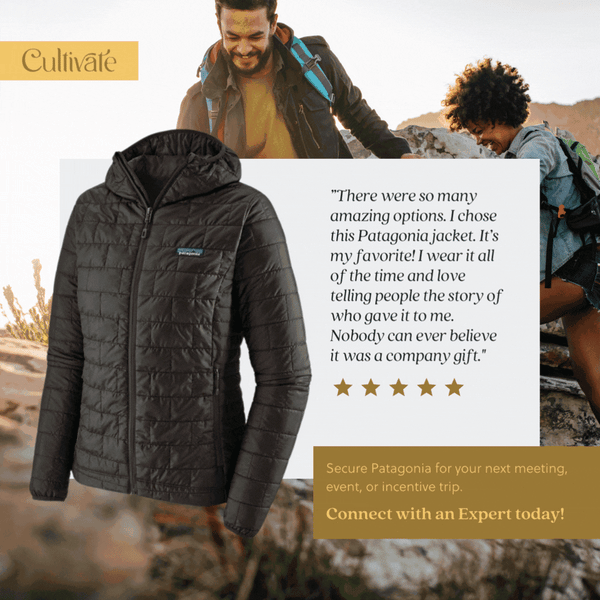 Premium gifts everyone wants, loves, and will cherish.
When it comes to appreciating people with premium products, Cultivate's Collection of Patagonia gifting options offer a variety of men's and women's jackets, vests, and carry-all bags. All Patagonia products are made from high-quality materials that people can frequently wear and cherish for years to come.
ICYMI: In April 2021, Patagonia announced it would stop stops adding corporate logos to its products — echoing a longstanding cornerstone of the Cultivate brand. Nixing branded merchandise will help reduce the number of corporate gifts and tchotchke that end up in landfills every year because people will be more likely to use and enjoy their Patagonia goods for life.
This might seem like a small step, but it's a huge leap forward to protect our planet:
1. 92 million tonnes of textiles waste is produced every year

Of the 100 billion garments produced each year, 92 million tonnes end up in landfills

To put this statistic in perspective: it's the equivalent of a truck full of clothes being dumped into landfill sites every second
If you're looking for sustainable, high-quality, and aspirational gifting options, everyone will love — look no further. Connect with an expert to learn more about our Collections of Patagonia products for Online and On-site Gifting — we'd love to show you more!
Can't wait to learn more?