Working from home has its benefits. Among many, a collective favorite is being able to work from home with our favorite coworkers. No, these aren't the colleagues we problem solve and brainstorm with; they're the ones with four legs and wet noses—our pets! In this week's blog feature, our team of Gifting Experts shares photos and stories about their four-legged friends. Grab your tissues because your heart is going to melt.
Our pawsitively adorable pals.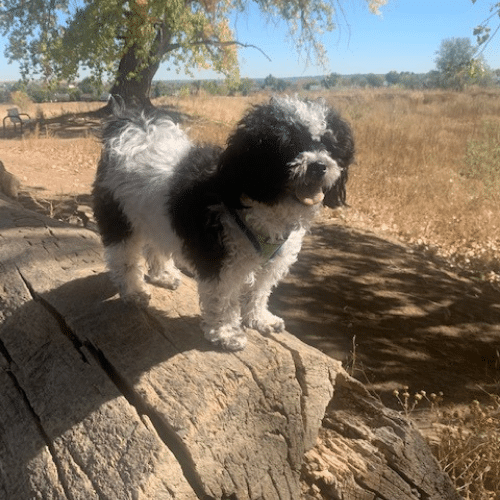 Gifting Expert John LeDoux's sidekick is Bear, the happiest little four-legged friend. He has never met a person he doesn't like and loves when his family is home so he can relax and chew his bones. His favorite pastimes are looking out of the front door, barking at the delivery trucks that pass by, playing on the playground with his sisters, and running around the backyard chasing any kind of ball the kids are playing with. He likes to sleep in and does not like baths or long car rides.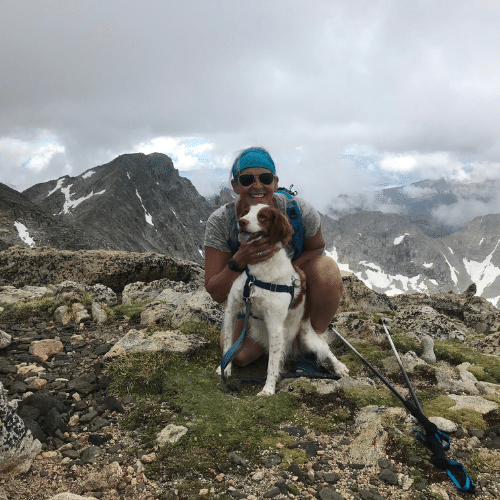 Our next furry friend is Annie, BFF to our Gifting Expert, Rebecca Meskis. If you've ever met Annie, you know she has the sweetest demeanor and loves to be by her Mom's side. Annie's favorite activities include hiking in the Rocky Mountains and acting as a foot warmer. She can always be found sitting on her mom's toes while working hard.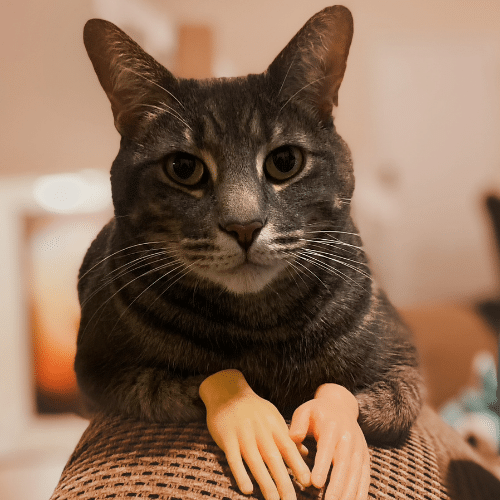 Next up, we have Haden, the almost 7-year-old tabby that belongs to our Gifting Expert, Tiffany. Tiffany rescued Haden during a snowstorm in Colorado Springs a few months after starting at Cultivate. He's named after Joe Haden, a cornerback for the Cleveland Browns. Hadden has so many nicknames and goes by Joe Haden Goose (Goose being the name given to him by the rescue that found him) or Hades, King of the Underworld. When he's not lounging in the sun or playing with his favorite sloth toy, he likes to make frequent appearances on conference calls and is quite the talker.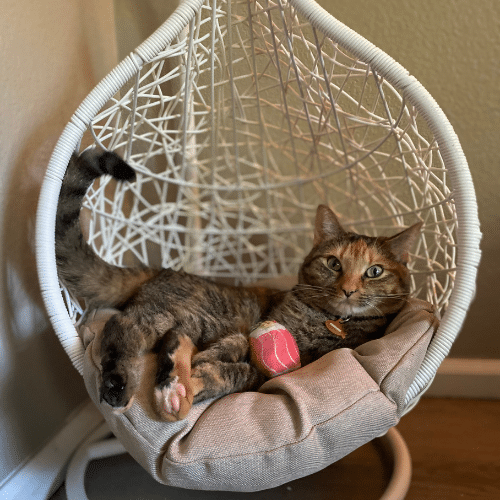 Gifting Expert Tara's four-legged coworker is Calico/ Tabby Mix named Freddie. Tara got Freddie her sophomore year of college after a fellow student approached her in the plaza asking if she would like a free kitten… the responsible and obvious answer any college kid would make was "yes," they've been inseparable since. Fun facts about Freddie include being born during the Solar Eclipse in 2018, playing fetch, watching squirrels, swinging in her hammock, and eating all of Tara's plants.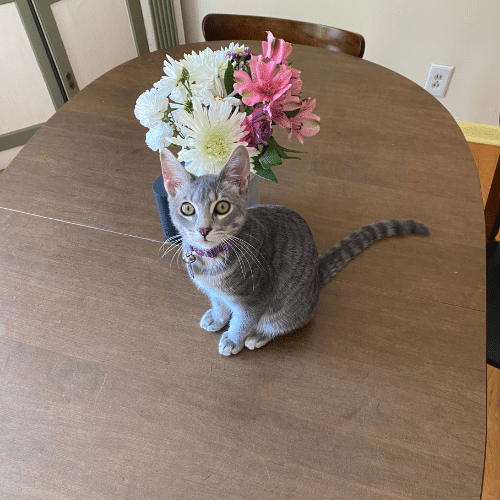 Our Gifting Expert Caroline works alongside her cat Frankie. Frankie was the last (but certainly not least) kitten at the adoption center. She instantly stole Caroline's heart. Frankie's hobbies include licking people's noses, chirping at birds, and carrying her toys around in her mouth like a dog. Her favorite human food is garbanzo beans, and she unwinds by curling up on the couch to watch Jeopardy after her long day of naps. Can we get an "Adorable" for 500?
Pictured: Atlas hard at work… 12/10 helper to Gifting Expert, Steph. He is a true quarantine kitten- found in the snow on the side of the road in November of 2020. He was about the size of a snowball when Steph rescued him. This duo was meant to be; as soon as she picked him up, he curled into Steph's arms and went to sleep. Altas loves the camera and can be seen in just about every call that Steph is on.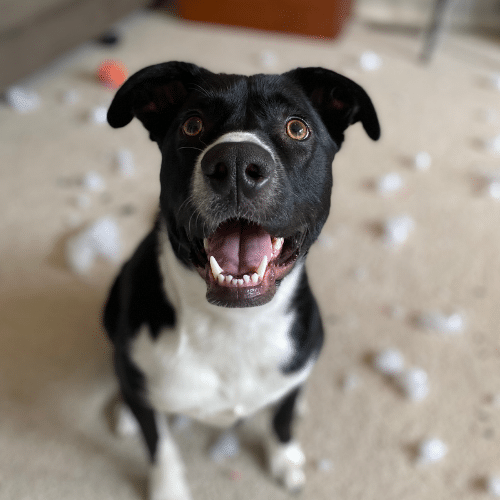 Meet Jensen! Gifting Expert, Emmalie named him after a SpongeBob character (Smitty WerbenJagermanjensen – because he was number one!). Jensen is a one-and-a-half-year-old Pit/Aussie mix obsessed with pushing toys under furniture and destroying anything fluffy. Expert cuddler and major zoomie runner.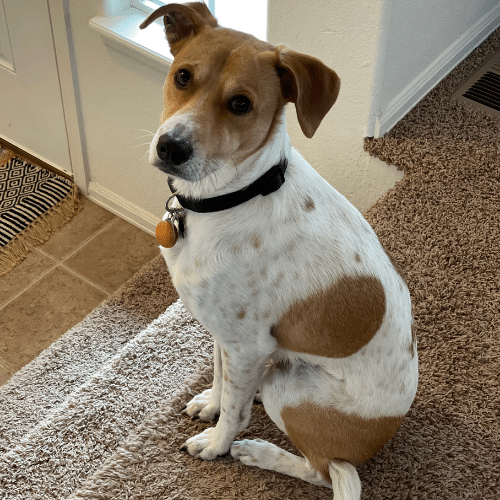 Scooter, aka Scootie, co-worker to Gifting Expert, Christa has "puppy dog eyes" that tug at your heart. Scooter's favorite things to do when he's not helping his mom work are fetching the ball or snuggling! Scooter brings a smile to the faces of everyone who meets him.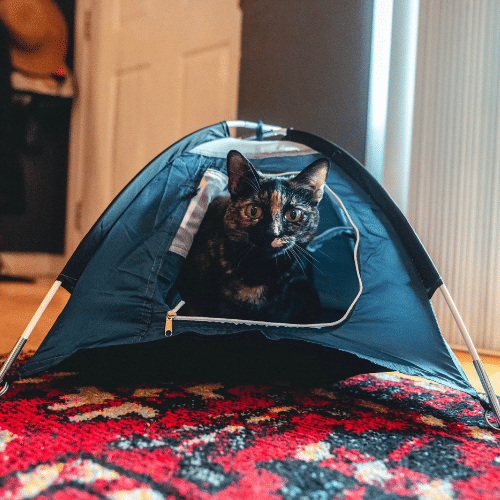 This is Kidd, a camping expert, and friend to Gifting Expert Alex. Kidd loves the simple things in life, such as cuddling with her humans, napping in the sun, and vibing out on catnip.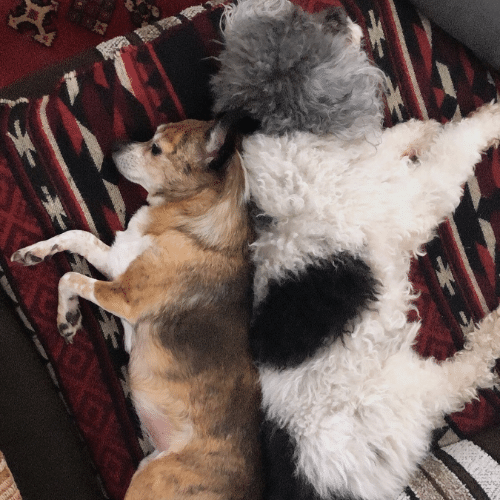 Meet Ginger and Bingo, the dynamic duo that inspires our Gifting Expert Jenny when she's coming up with clever copy, developing Cultivate's brand identity, and assisting the Sales and Marketing team. Both pups are senior-age, so they enjoy sleeping during the day, easy-going afternoon walks, and interrupting Zoom meetings for belly rubs. But don't let their age fool you—these two love to go camping, explore new places in Colorado, and snuggle up close.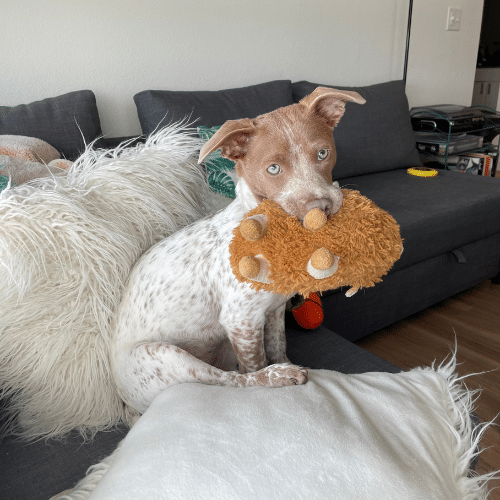 Indie, is Gifting Expert and Graphic Designer Elise's pup. Indie is about 1 year old and was adopted from Denver Animal Shelter in October. Her favorite things to do are eat grass, play fetch, and roll in dirt. A fun fact about Indie is that she was dressed as a pumpkin at the halloween-themed adoption event Elise got her at – how could anyone resist that?
We hope these sweet pals of ours made you smile as much as they make us. Sometimes it's important to stop and appreciate the pets that make work from home life a little more colorful.
If you're looking for ways to engage and appreciate people from afar, connect with a Gifting Expert to learn more about Cultivate and our Virtual Gifting solution. There's never a wrong time to appreciate people who deserve it the most!