Nike gift programs are perfect no matter what your demographics are. Whether your guests are looking for a new pair of running shoes or just a casual pair to wear on their weekend hikes, Nike has what they're looking for.
We've recently enhanced our Nike gift programs by adding more pre-designed options for guests to choose from on-site along with the option of designing a custom pair on the NikeiD website. With the new Nike mix your guests get to walk away from your event with a new pair of shoes. There's no designing and no waiting for your shoes to be delivered at a later date. Each mix has a wide variety of styles and colors, so each guest can select a pair they truly love.
With NikeiD gift programs guests select the style, materials, and up to 10 customizable details on their shoes. Each pair of shoes are ordered on-site and later delivered to your guests. Some pre-design options are also available with a NikeiD program for guests to pick from or serve as creative inspiration.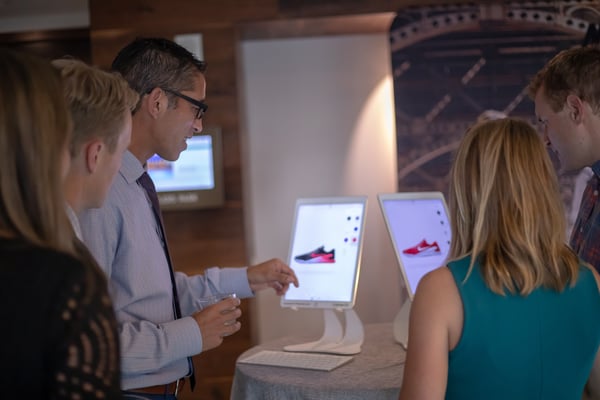 We're also now offering custom fit insoles to add on to any Nike gift program. On-site staff will help your guests fit their custom insoles with their pair of shoes. Each insole is designed to give your guests maximum support, comfort, and efficiency. Here's how:
Dynamic Arch Support
Insoles provide natural foot support and alignment, helping to prevent injuries and discomfort.
Personalized Comfort
EVA and PU foam offer enhanced cushioning which combined with the molded balance plate provides personalized comfort.
Shock Absorption and Energy Return
The dynamic core construction helps to absorb impact and boosts power and energy.
Perfect Fit
Insoles can be heat molded to follow the exact contours of the foot, providing a perfect arch support on the right height.