We thought we'd share a sweet and spicy twist on a classic cocktail to kick off the last month of summer. This Pineapple Jalapeño Margarita is the perfect way to add a little heat to your August event. Enjoy!
Ingredients
2 tbsp. of sugar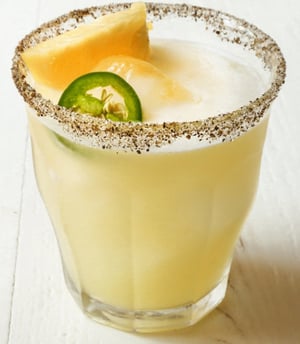 1 tbsp. of black pepper
3/4 ounces of Triple sec
1 pineapple chunk
1 Jalapeño round, thinly sliced
1 1/2 ounces of Cazadores reposado tequila
1/2 ounce of fresh lime juice
1/2 ounce of Pineapple Juice
Directions
1. Combine the sugar and black pepper in a shallow dish. Wet the rim of the glass with the slice of lime, and gently rotate the rim into the sugar and pepper mix to coat the edge of the glass evenly.

2. Add the triple sec, pineapple chunk and jalapeño round into a mixing tin and gently muddle.
3. Add the tequila, lime juice and pineapple juice. Add ice and shake.
4. Double-strain over fresh ice into the rimmed glass. Garnish with a lime wedge, pineapple chunk and jalapeño round.